Newsfeed
AR WINELABELS OFFICIALLY FEDERATES IN THE WINETECH!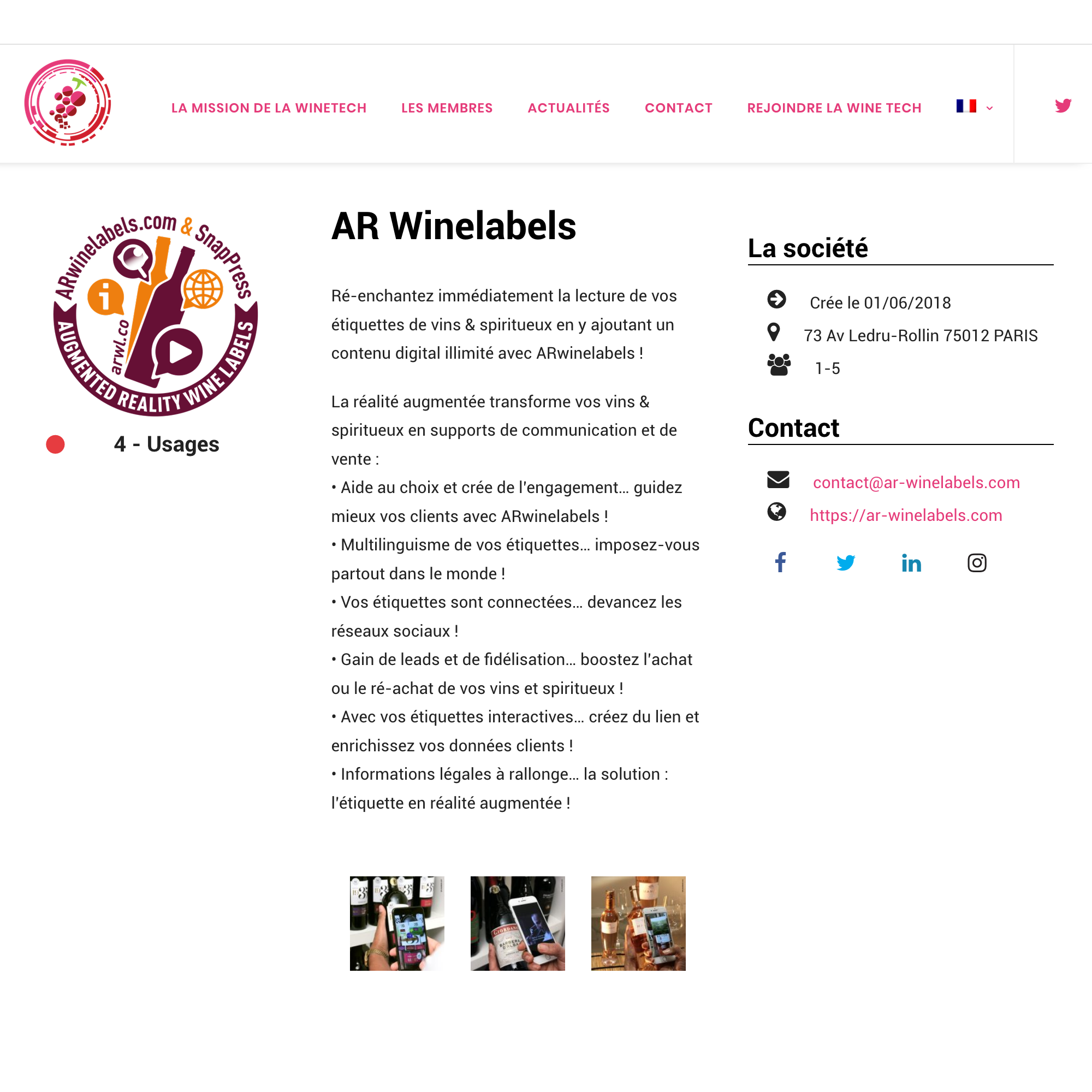 ALONGSIDE 34 OTHER START-UPS TO PROMOTE INNOVATION IN THE WINE SECTOR AND ACCELERATE ITS GROWTH.
IN EARLY 2020, WINETECH FORMALIZES ITS EXISTENCE BY FEDERATING ITSELF AS AN ASSOCIATION, AND ANNOUNCES THE APPOINTMENT OF ITS PRESIDENT, LAURENT DAVID. BY BECOMING THE FIRST FRENCH WINE INNOVATION ECOSYSTEM, THE WINETECH ASSOCIATION INTENDS TO CONQUER NEW INVESTORS AND TO HATCH NEW MARKETS WITH VERY HIGH POTENTIAL!
Born of a spontaneous movement of a handful of young entrepreneurs, the Winetech has been able, in just 4 years, to dig its furrow in the landscape of the French wine industry.
Technological innovations, intelligent solutions, new consumer uses… The opportunities are numerous for La Winetech to wear high the colors of French viticulture. In an increasingly competitive global market, La Winetech is betting on a digital shift and innovation to revitalize the sector and reconnect with consumers. The Winetech gives itself the means of its ambitions and formalizes its existence by structuring itself in associative form, and announces the appointment of Laurent David (former Director of Apple in Europe, winemaker and entrepreneur) at the head of this new organization.
In total, Winetech has already created more than 300 jobs. A key driver of economic development for several dozen French and international start-ups, La Winetech intends to continue its roll-out and plans to reach a cumulative turnover of €100 million next year. With its very good results, La Winetech is taking on new investors and is now looking to raise at least €20 million to finance the development of its 35 start-ups.
"While wine is obviously part of our culture and is still exported very well, professionals see that competition is getting tougher, but also that consumption patterns are changing. Because at La Winetech we love this heritage, and we want to defend French wine-making know-how, we think it is absolutely necessary to associate technology with it. It is imperative that France take this digital shift to continue to shine in this market, and I am convinced that our start-ups have a major role to play in this revolution. It is through innovation and daring that French wine can guarantee its supremacy and face global competitiveness." explains Laurent David, President of La Winetech.
An official structuring of La Winetech to take on new investors and to hatch new innovative markets with very high potential. Winetech is part of a movement driven by innovation, creativity and audacity The European Commission has also taken a number of initiatives to promote entrepreneurship in the world of wine. In the era of 2.0, the business leaders gathered in La Winetech are blowing a new wind of technological innovation in the wine sector and are crossing, at the beginning of 2020, a new direction: to give La Winetech an official status. Ambition? Accelerate the development of young nuggets who embody the digitalisation of the wine sector to better attract investors.
Press contact: Agence Eklectik - Florence Guettier - agence.eklektic@gmail.com
Notre page sur site de La Wine Tech : AR Winelabels
Other medias related to this post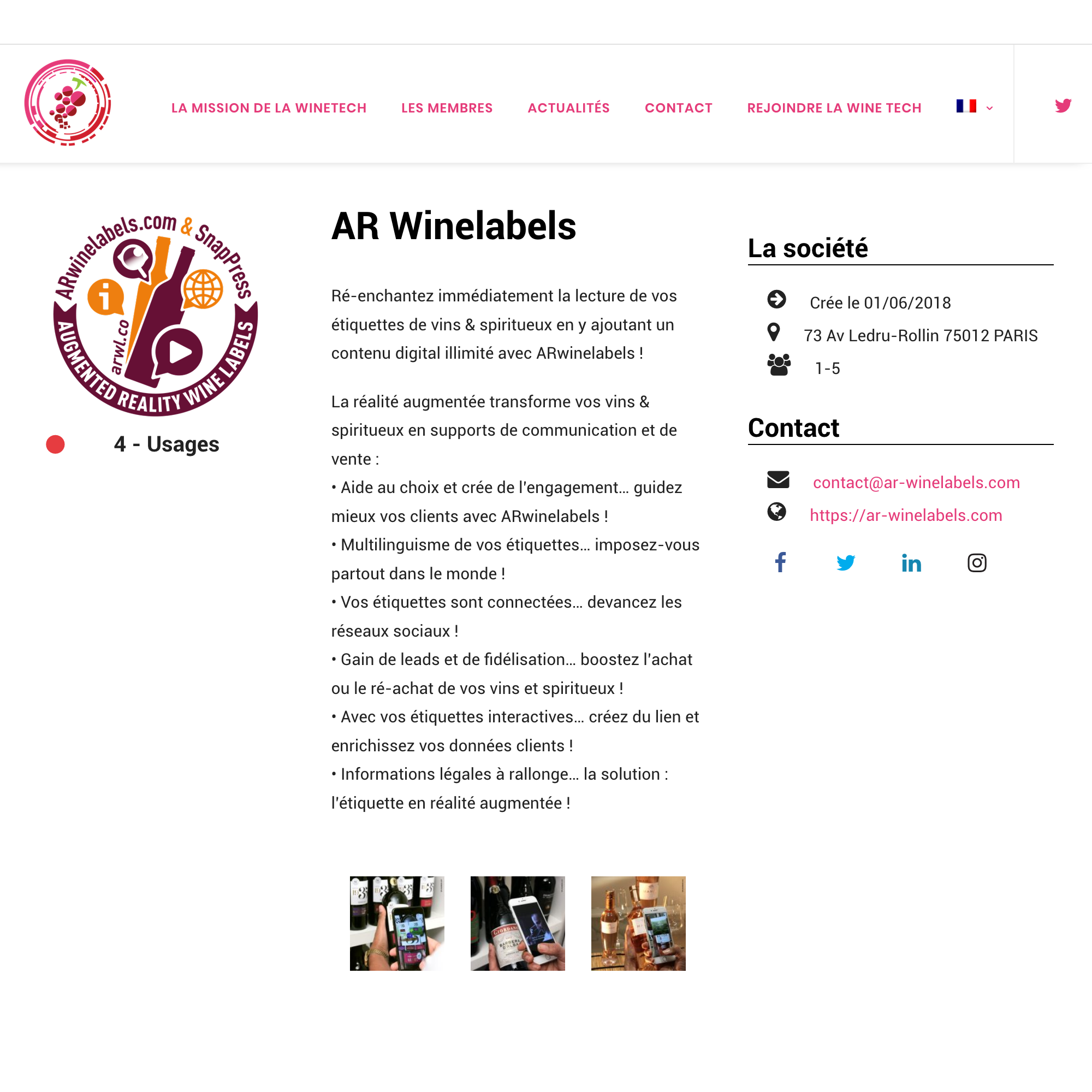 Page FR-ARwinelabels new site LaWineTech2020.png
2020-02-07 12:52:00
Share on your favourite social networks